Maybe it's time that I publish an update I made this summer to Celestia's pulsars database (so, the addon sector is still alive even if Celestia's development is dying).
I used the latest ATNF pulsars catalogue (version 1.30) and made a complete up-to-date addon for Celestia 1.5. It contains more than 1750 pulsars (see the readme file coming with the addon), and some scripts to study the spatial distribution of the known pulsars in the Milky Way. It's also including 7 well known pulsar binaries, properly oriented relative to Earth (references are given in the binaries SSC file).
I worked hard on the database to identify all the duplicates (there are a few pulsars in the ATNF database which are actually the same object, with different names) and all pulsars having a very inaccurate or unreliable distance. A few pulsars in the ATNF database are even lacking some data, so I had to take care of them. Take note that I used a SpectralType "D" for all the pulsars having an unreliable or unknown distance, so we can identify them easily using a script.
The addon contains some simple
generic
models to render the pulsars with jets. If you don't like the models, just throw away the associated SSC files. As a complement, I'm also giving a second link to a "sub-addon", which adds a magnetic field configuration to some well-known pulsars. Please, read the accompany readme file. Of course, the magnetic sub-addon is optional. If you don't like the magnetic fields models, you know what to do.
http://nho.ohn.free.fr/celestia/Cham/ATNF_pulsars.zip
(7.9 MB zip file)
http://nho.ohn.free.fr/celestia/Cham/pu ... _field.zip
(44.8 MB zip file)
Comments are welcome here.
EDIT :
Some previews from the addon.
The
generic model
used for almost all pulsars :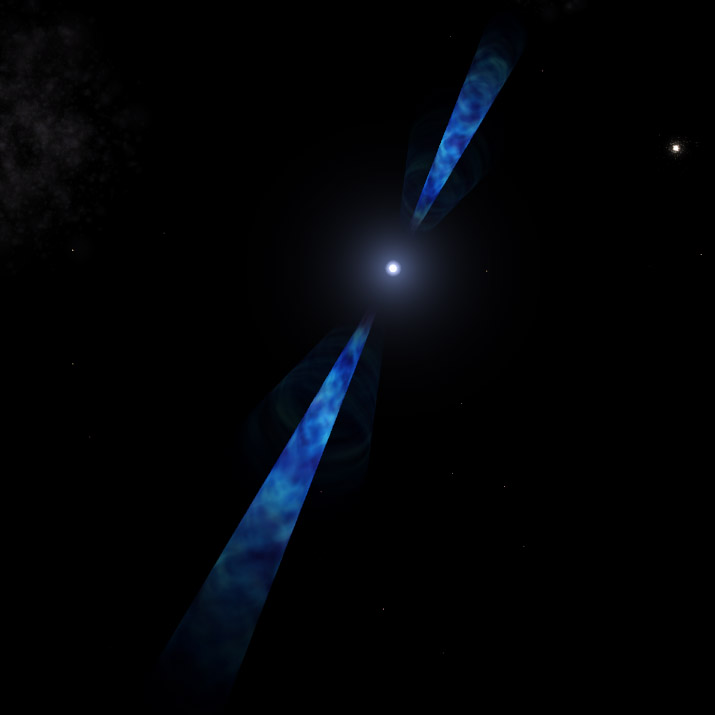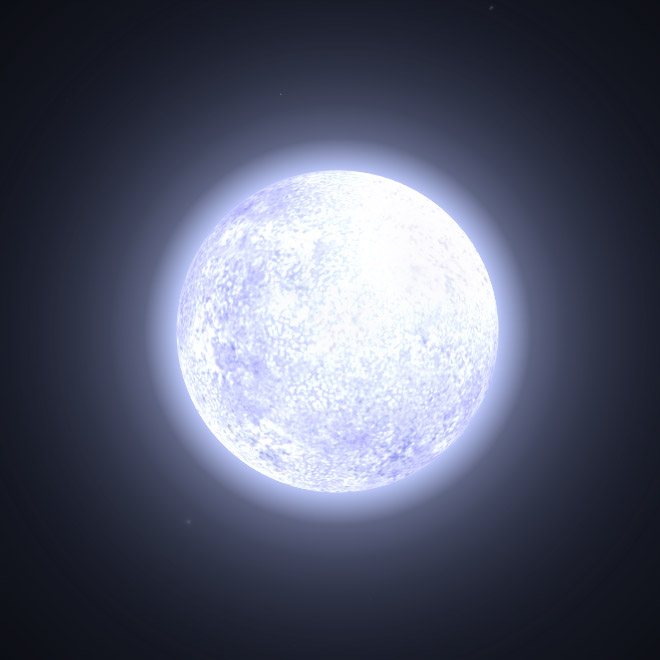 One of the scripts in action, showing the population of pulsars with markers :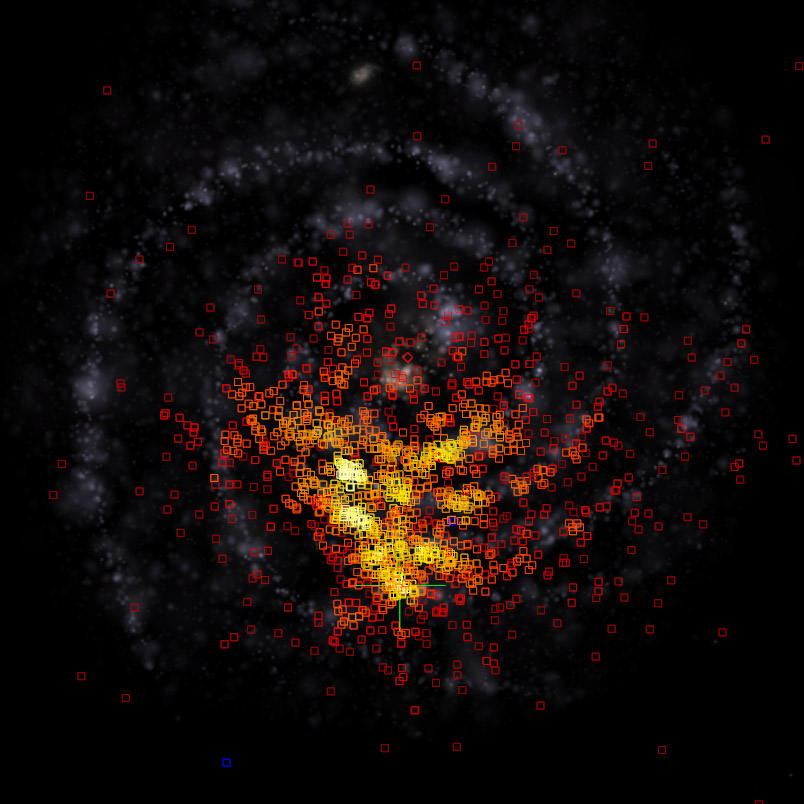 A
generic model
used for a few of the pulsars, with a generic dipolar field (from the "magnetic" sub-addon) :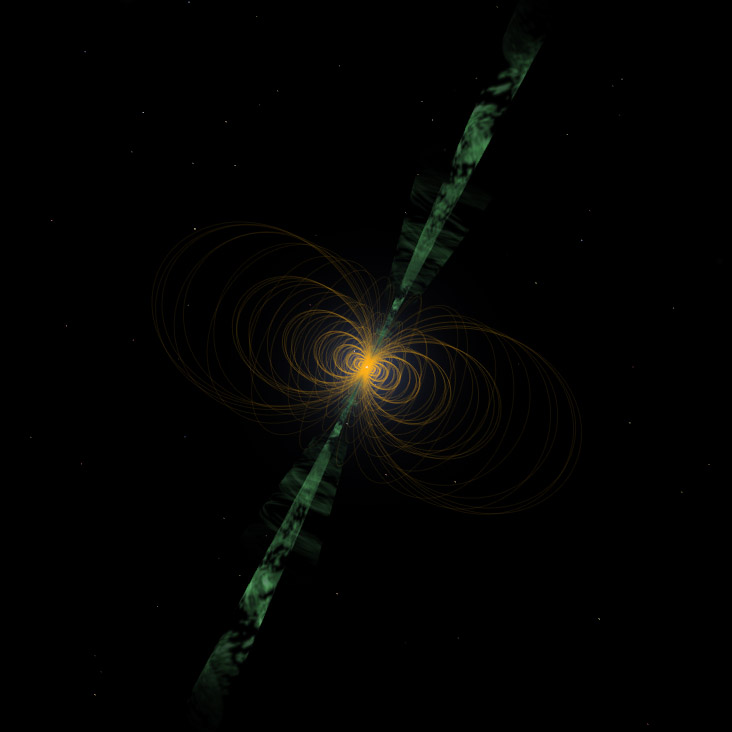 One of the models showing the true relativistic magnetic field of a rotating dipole :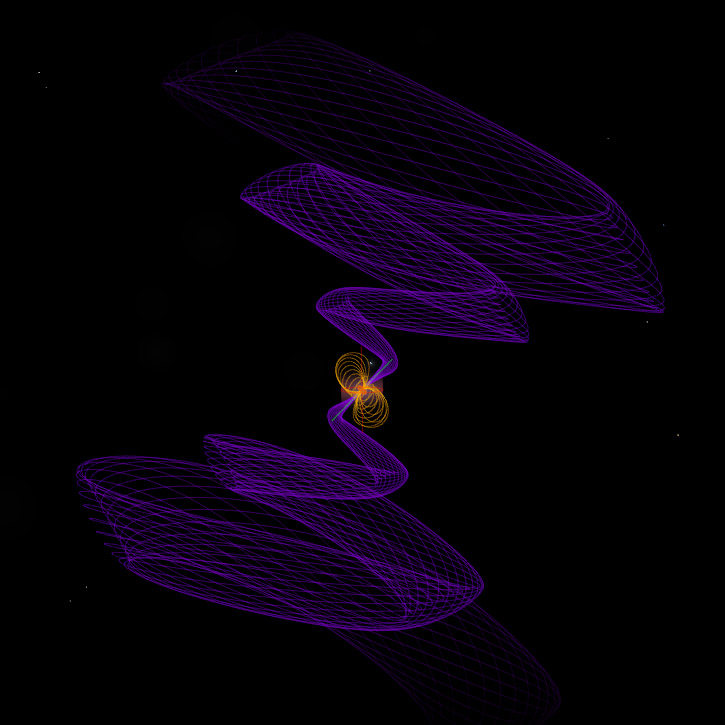 One of the paths of a relativistic charged particle moving in a magnetic field, with effects from the induced electric field (while negligible on this path, gravitation and rotating frame effects - Coriolis and centrifugal forces - are also included) :