I'm building a comparison between several famous stars. Here are some previews (click to enlarge) :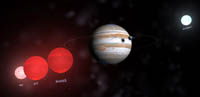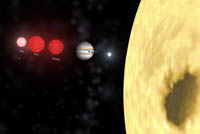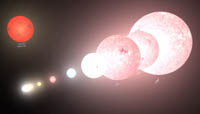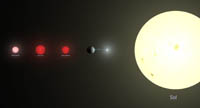 It's almost finished. I just need to tweak some details here and there. For the moment, there are some French floating labels. If there is some interest, I may publish an English version (or italian ? or even German ??). Of course, comments and suggestions are welcome.
The stars I'm comparing are these :
40 Eridani B (white dwarf)
Alula Australis (brown dwarf)
Gliese 229 B (red or brown dwarf ?)
Proxima Centauri (red dwarf)
Sol
Sirius A
Vega
Pollux
Arcturus
Aldebaran
Rigel
Deneb
Antares
Betelgeuse
VV Cephei
Old Sol (red giant phase)
Here are two sites which show about the same thing :
http://www.rense.com/general72/size.htm
http://www.youtube.com/watch?v=tL6E8mn-H2c
I'm also inspired by this web page :
http://www.solstation.com/stars/pc10bd.htm
Chris, if only there was a blurry atmosphere on the star surface !